A Safe and Caring Atmosphere
We take great pride in the commitment and safe care given each child who attends our camp. Adult supervision is provided on and off the courts. Our camp environment cultivates and nurtures each camper's confidence. CVTC is electronics free (unplugged) to encourage connections between campers/staff and foster the development of lifelong friendships. The warm and loving atmosphere creates memories of tennis, fun and friends that last a lifetime.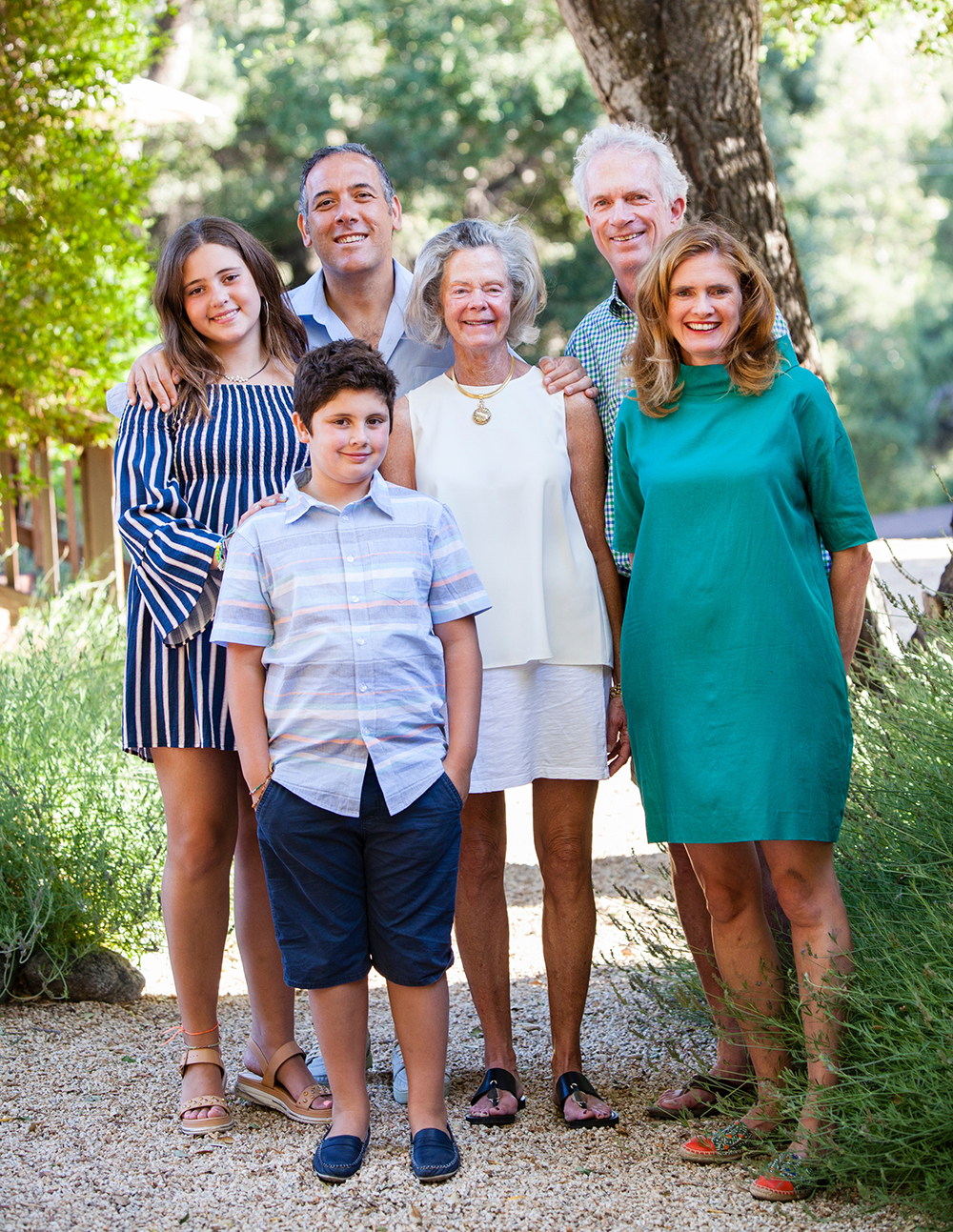 Family Owned and Operated (Established 1970)
Susan Reeder, Steve Proulx and Aimee Reeder are the Owners and Directors of Carmel Valley Tennis Camp.
SUSAN: Co-Owner and Director since 1992 • 1998 purchased land and invested in the business for the current CVTC location • Year round CVTC Assistant Director from 1988-92 • Tennis Director for Harbor Bay Club 1984-88 • Manager of Sleepy Hollow Tennis Club 1982-84 • Coach of Eastern Michigan women's team 1978-80 • Teaching pro in Ann Arbor, Michigan 1977-80 • Graduate of Ohio State University, B.A. in Russian Studies • Ranked junior player
STEVE: Co-Owner and Director since 1992 • Stevenson School 2019 Athletic Hall of Fame Inductee • Biology Teacher and Chairman of the Science Department at Stevenson School in Pebble Beach, California 1975-96 • CVTC Summer work 1984-89 • 2000 Northern California USPTA High School Coach of the past 25 years • Central Coast Section Honor Coach for 1995 • NorCal USPTA High School Coach of the Year for 1993 and 1994 • Boys Tennis Coach from 1975-96, 99-00, consecutive league championships from 1981-2000 • Girls Tennis Coach from 1978-80, 85-92, consecutive league championships from 1988-92 • Played tennis for the University of California at Berkeley • Quarterfinalist in NCAA doubles championships
AIMEE: Co-Owner and Director since 2009 • In the off-season Aimee lives in Rome, Italy with her husband and two children and teaches at Universita Delgli Studi Internationali di Roma • History teacher, experience as Dean of Students, Faculty Advisor to Student Council, Community Service Program, Model UN at St. Stephen's School in Rome, Italy 2004-2011 • Masters in Diplomacy, Westminster University, London • Graduate of the University of Kansas, B.A. in History • past camper, tennis counselor, Head Counselor at CVTC
Our staff is composed of college aged counselors, some of whom have been campers at CVTC. Our tennis counselors are playing college tennis and bring a wealth of tennis experience to the camp.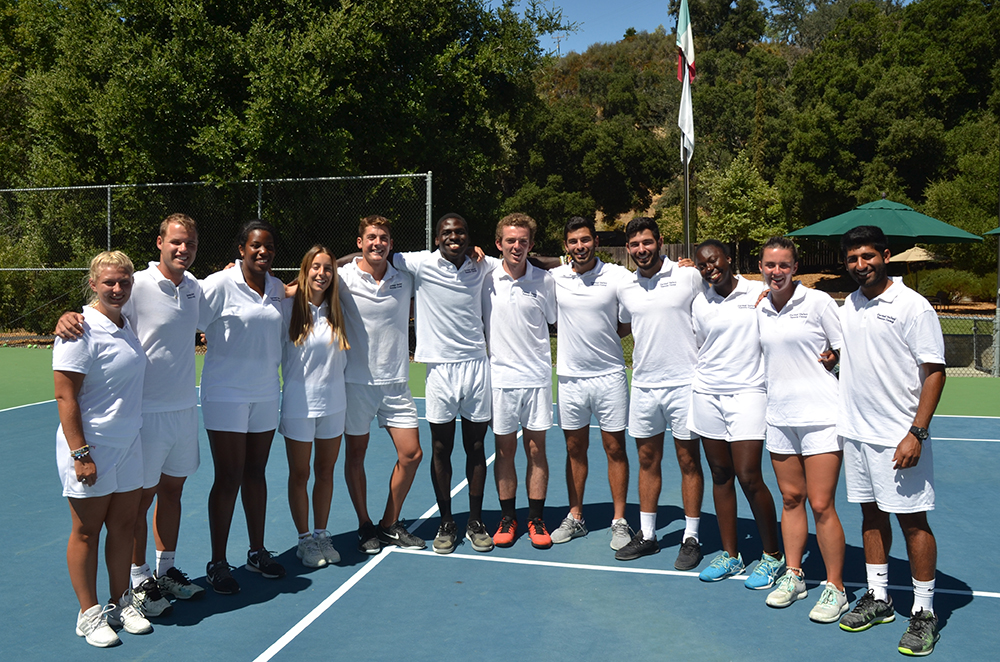 Some of our 2019 Staff
Head Counselors
Keiran President – Graduate of Ottawa University with a degree in Marketing; Captain of the Men's tennis team; Hometown Castries St. Lucia.
Elias Fernandez – Graduate MBA program at Heidelberg University; Assistant tennis coach of the Men's and Women's tennis program; Hometown La Rioja, Argentina.
Ròisìn Kelly – Rising junior at Queen's University Belfast; majoring in Medicine; playing #3 singles and #2 doubles college tennis. Hometown; Louth, Ireland.
Counselors
Gyorgy Agoston – Senior at Southwest Baptist University majoring in International Business; All American Honors as a member of the Men's tennis team; Hometown Budapest, Hungary.
Carolina Quevedo Aranda – Rising Senior at Young Harris College majoring in Communications; Women's tennis team member; Hometown Barcelona, Spain.
Jamie CoConis – Senior at the University of Colorado, Boulder, graduating in December 2019; majoring in Anthropology with a minor in Education; On the CU Co-ed Club Tennis Team; hometown Ridgefield, Connecticut.
Drousile Dzeubou – Rising Senior at Radford University majoring in Finance and Management; #1 doubles and #2 in singles on Women's tennis team; Hometown Torino, Italia.
Lauren Federico – Rising senior at Point Loma Nazarene University majoring in Nursing; student nurse and lifeguard; Hometown Fresno, California.
Andres Padilla – Rising senior at Young Harris College majoring in BS accounting, Men's tennis team; hometown Cucuta Norte de Santander Colombia
Carlos Padilla – Rising Junior at Young Harris College majoring in BS management, part of the Men´s tennis team; Hometown Cucuta Norte de Santanderzeubouu, Colombia
Param Pun – Rising Junior at Wright State University, majoring in Sports Science; member of Wright State (D1) tennis team; Hometown Chandigarh, India.
Liz Smith – Rising Sophomore at Kentucky Wesleyan College double major in Sports Management and Communications; Hometown Greenfield, Tennessee
Meggan William – Rising Sophomore at University of Charleston majoring in Movement Science; member of Women's tennis team; member of Student Activities Board; member of Global Students Organization; Hometown Castries, Saint Lucia.
Kitchen Staff Karen Lopez – 7th summer; student at Monterey Peninsula College majoring in Civil Engineering; Best Chef anywhere; Hometown Carmel Valley, California
Kitchen Staff Rosa Lopez – 5th summer; Owner/Operator of Taqueria in Mexico; Assistant Chef; Hometown Carmel Valley, California
Nurse
Gail Quinnan – 28th summer overseeing all the campers and staff at CVTC; Best nurse in the USA
Registrar and Forms Administrator
Yaqueline Resendiz – 18th summer as part of the CVTC staff; has done every job imaginable at CVTC